So I went on a political cartoon/traditional country personification spree recently so I thought I'd share some of the fruits of my labors. I wasn't entirely sure which section to put this under since they'll be a lot of Uncle Sam and John Bull but I do try to keep it generally on Canada even if I fail at points.
I know political cartoons and personifications have come up before but a lot of these are new to me so I thought it would be worth sharing.
I'm sure a lot of people here are familiar with them but regardless let's have some setup of the major players-
This is
Britannia
(quit laughing Code Geass fans) the female embodiment of Great Britain/England/UK/well you get the drift. And yes, I know, you never would have been able to guess from her name. Her distinct trait is the helmet which imitates that of Athena/Minerva the Greek/Roman goddess of wisdom and a lot of times she has a triton (it is an island after all) and shield. And occassionally lions sit at her feet just because she can have them there and she's cool like that. Overall though, she's a pretty old and consistent symbol.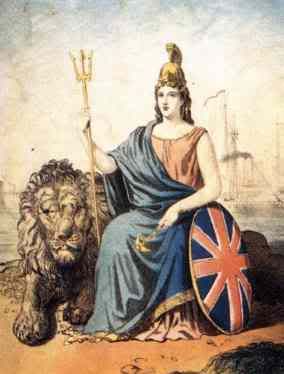 This is
Columbia
who is the classical embodiment of the US. You probably know her best from seeing her at the beginning of every fim by a
certain film company
. Her distinctive traits are...well...actually.....she's honestly not very distinctive a lot of the time. It's an attempt to make a personification similar to the European ones and it's often hard to tell her apart from
Marianne
(Embodiment of France, though Revolution era and beyond primarily) because both are usually depicted with
Phrygian caps
.
Columbia has a tendency to wear dresses that cover her breasts a bit more however.
Once we get into color posters she's usually depicted in a blue and red dress with stars and stripes and gets some more distinct traits. However, by the time that happens Columbia become more distinct she started disappearing with people using Uncle Sam and Lady Liberty. This isn't a bad thing however and in my opinion they fit the times better and are more distinctive than Columbia.
Though she still pokes her head up occasionally.
It's also worth noting that British Columbia likely indirectly gets her name from this lady. The province (with the specification "BRITISH") was named after a river, which was named after a boat, which was likely named after the Lady or at least Columbia as an idea since the captain of the boat was American.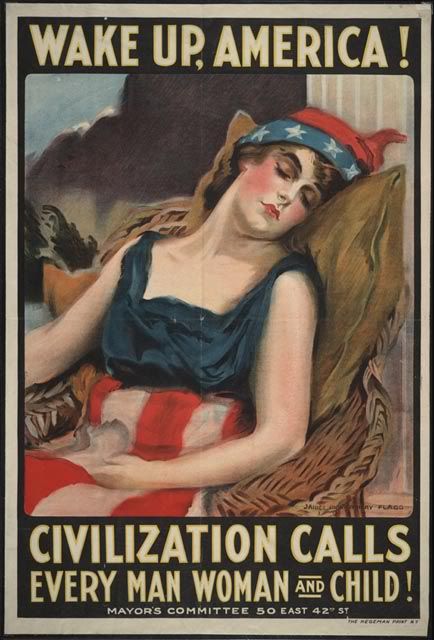 And then this is
Lady Liberty
. Who is not the same person as Columbia please people stop confusing them! D< Sorry, pet peeve. OTL Lady Liberty tends to be more of a metaphysical figure than a straight personification of the US sometimes. Often, she's shown as being the ideals, or the will of the American people while Uncle Sam is the actual govermnent and the two of them have an interesting, uncertain relationship.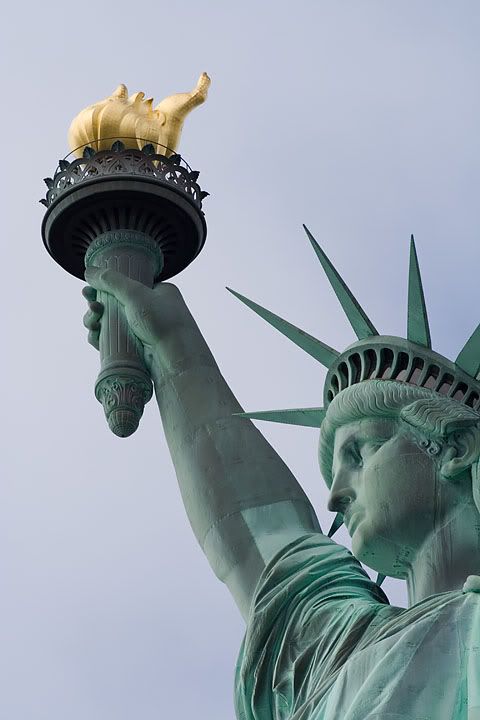 This is Liberty making out with Justice. Sorry, I just wanted to throw this picture in here.
So what about Canada? Canada is hard to pin down with a personification. A few people put forth designs but none really stuck.
This one is a nice and classical-looking one and has a lot going for it.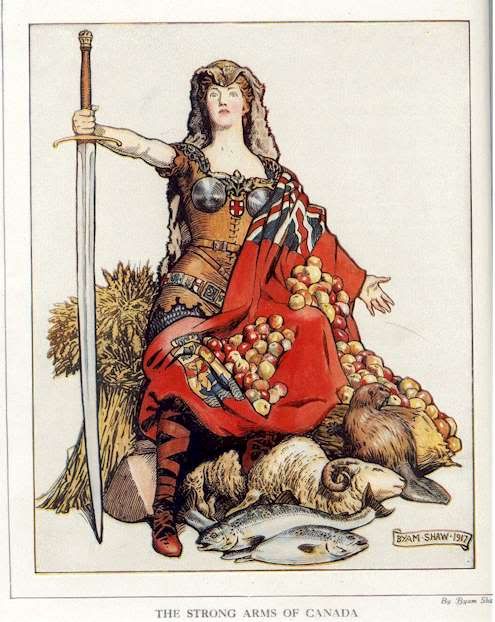 This is a statue somewhere and I'm not sure where since I lost the original link and I can't find it again. If you look at the coat of arms you can see some small versions of the flags/seals of the provinces and it looks like the
1873-1892 one on this list.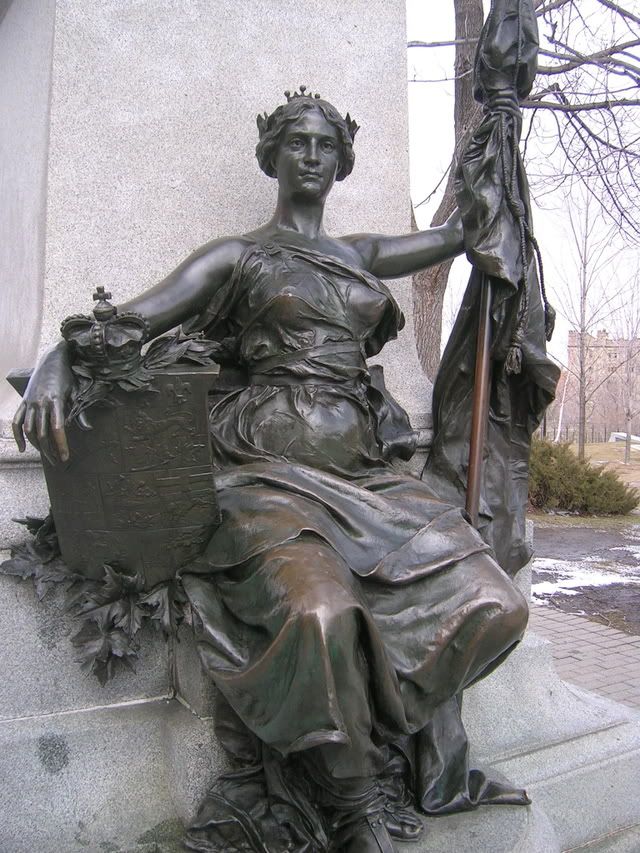 Of all the pictures of Canada, at least as a female, she is depicted as very young. Not off the mark considering that Canada
is
a young country though some people do take it too far.
Example- Why does this picture make it look like Canada is Britannia and Uncle Sam's lovechild? And more importantly who gave the baby a firearm? With a bayonet on the end? D8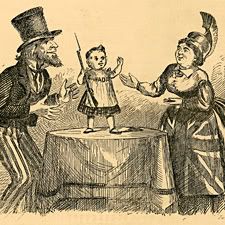 Oh and look his first baby steps to "Political manhood"! (Pffffft that is a glorious term.)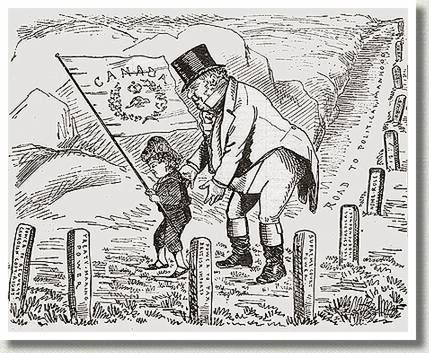 However since the previous big picture was a statue, I can't not mention the
Vimy Ridge War Memorial
and Mother Canada. What I find so interesting about Canada there, is that she is depicted older and and sadder than I've ever seen her. The original name of the piece after all was "Canada Bereft."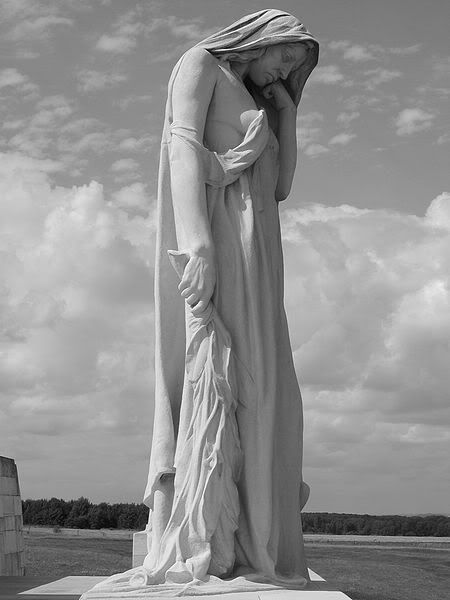 She is a mother here, an older country. She has large bags under her eyes and strong cheekbones and veins in her hands showing and is evoking classical imagery of the mourning Virgin Mary. And clearly I've had too many art history classes with the way I'm talking. Sorry. She's not an entirely idealistic figure her but she is a mature one that knows loss and she really is a heartbreaking, yet dominating character here and I'm surprised that she hasn't been used more in your imagery since (I think she's on the back of one military medal but that's it), though the fact this is in France and not easily accessible probably has something to do with it.

But she's never had one specific design or traits that really made her stand out specifically and a lot of times people stuck with labeling her "Canada" or trusting on context.
Some young women even dressed as Canada. Which apparently consisted of pinning Canadian flags to yourself or something what on earth are you doing lady? Also note the Teddy bear that is totally not Kumajiro.
Next of course, we go to the male figures where we get J
ohnny Canuck
. Other than a period in the late 19th century and early 20th and admitting my bias toward the female versions of countries as a whole I don't see much of him used as an actual personification.
By the time we get to the mid 20th century he's become a comic character and according the the very reliable source of wiki like Captain America he almost defeat Hitler single-handed. Dun Dun Dun.
I wonder what Guardian thinks of him. *shot*
And later as a logo for the Vancouver Canucks.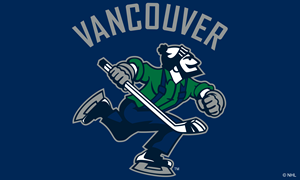 Okay maybe I sound like I'm demeaning him, I don't intend to, it's just that while I don't read a lot of Canadian Political cartoons so I don't know how prevalent he is these days, from what I've seen the comic and him being a logo for a specific hockey team have mostly killed him being used as a specific personification for the entire country for the most part.
Of course, he did have a neat run during the height of his reign as the personification of Canada.
This one makes me laugh. Like a lot. Out loud.
This is easily one of my favores favorite of the new pictures I found in this batch of searching. It really interests me that they're singing "Maple Leaf Forever" and not "Oh Canada" but I guess that would make sense with the era. Also, admittedly I didn't recognize Canada at first since I'm still not used to searching him out as a man (well in non-hetalia media) and I generally don't look at butts for a label. Seriously, I know you have a glorious rear-end Canada but there's no need to call so much attention to it.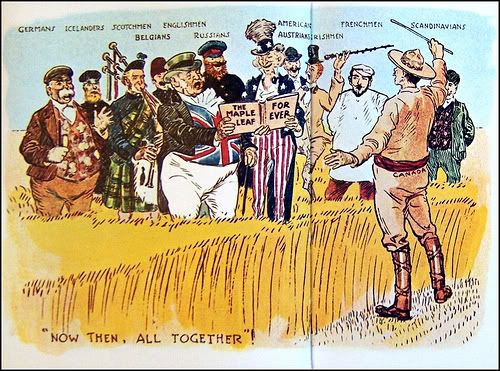 And he has a moustache here. Where did that come from? He practically looks like Theodore Roosevelt.
This one led to large amounts of lol-ing too.
John Bull is totally going "THAT'S MAH BOI" and I just noticed that Canada is still smoking while he's kicking Uncle Sam out the door. He does that.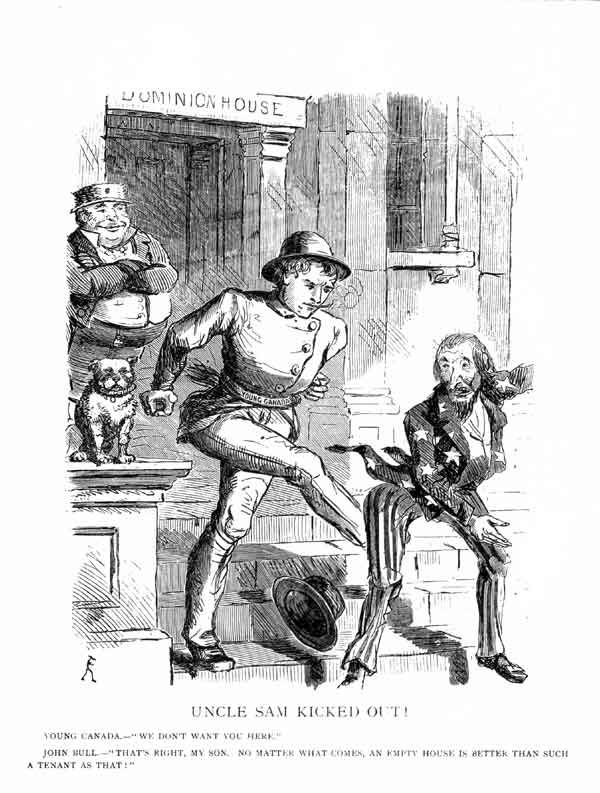 These days though in modern political cartoons, people have mostly just thrown their hands up in despair regarding a Canadian personification and use a beaver.
This is totally not creepy at all.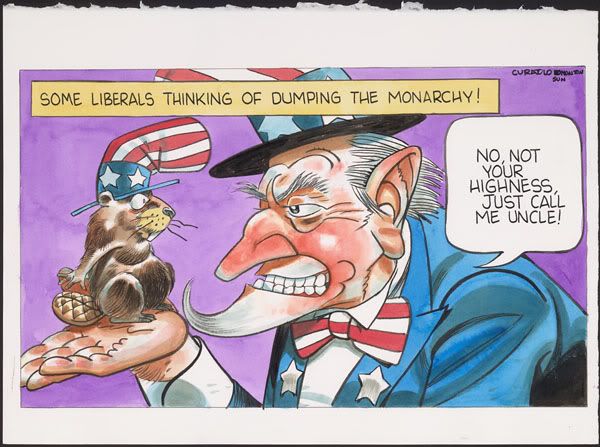 Drinking buddies.
IDK MAN.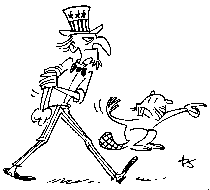 I mentioned before that I have a bias towards the female personifications so this time I tried to look things up with the more modern, male equivalents of the countries. They've been in this post already and I assume most of all of you know
Uncle Sam
, and
John Bull
is the UK equivalent.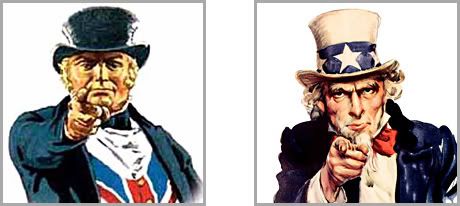 Another random fact to know that's important to not though is that Uncle Sam wasn't always Uncle Sam, he's occassionally Brother Jonathan. Because someone is unimaginative and was convinced that everyone in the family had to have a name based off of the name John. I blame you England. I blame you in all your Victorian glory.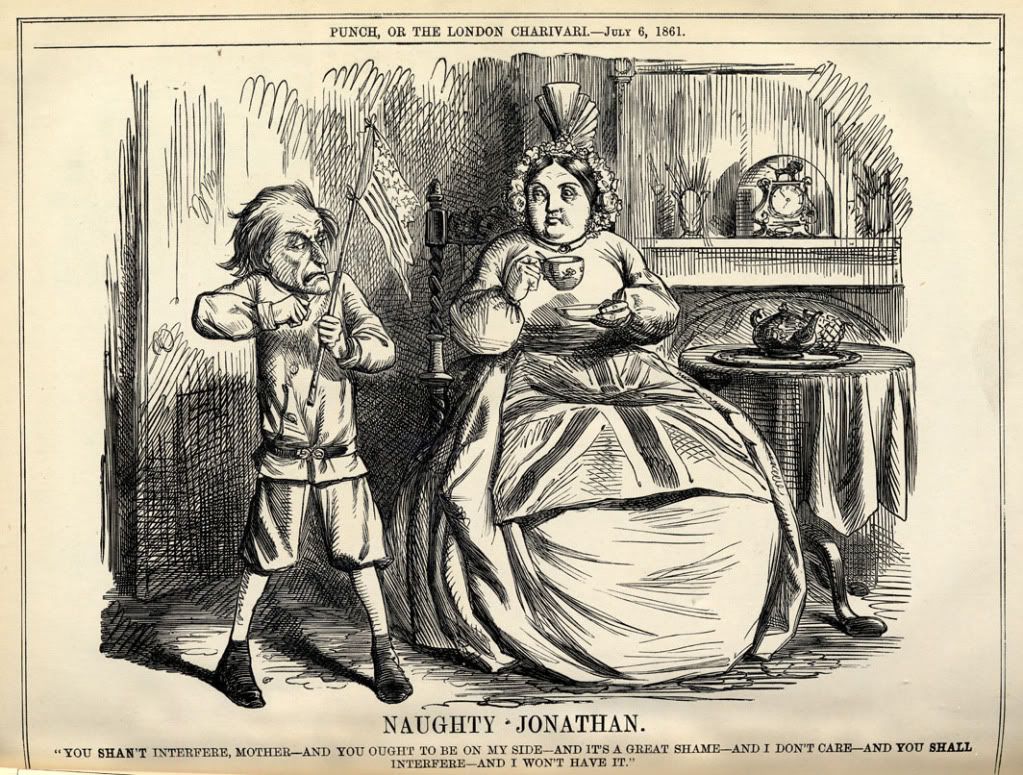 But without doubt my main conclusion from that approach was easily that John Bull and Uncle Sam are very....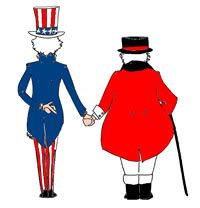 ....VERY....
....
very
gay for each other. If you didn't know that already. They indeed have a...well,
special relationship
.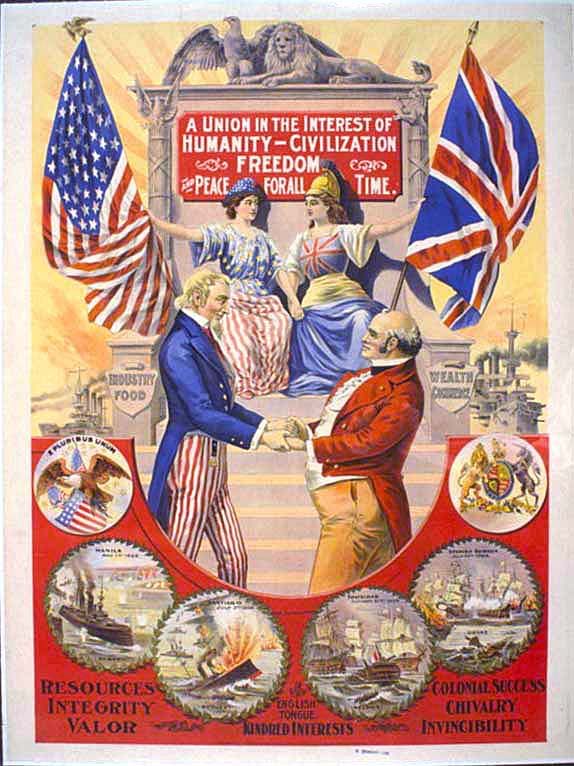 (And Columbia and Britannia ship it)
Aww, look, they're knitting the human genome together. How domestic.
*insert loud snorts of laughter*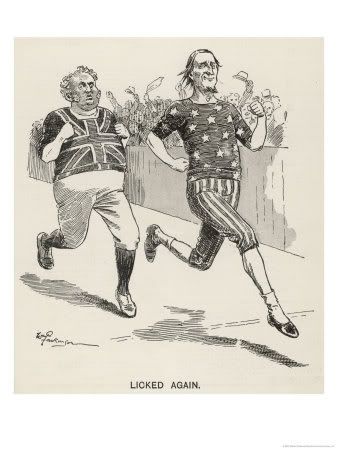 Anyhow, now that I have the obligatory slash out of the way let's go back to Canada.
Who by they way they're both complete douchbags to. Though all things considered this should probably not be news to you guys.
And when they're not being douchebags America is trying to proposition his sister/cousin/relative/it's-incest-regardless-okay.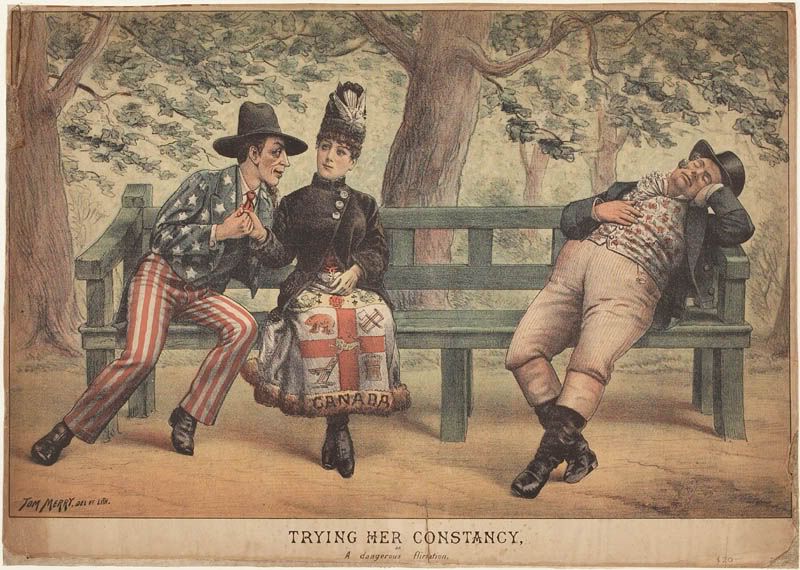 I love that America is trying to woo her with French. But I have to wonder if he meant hello.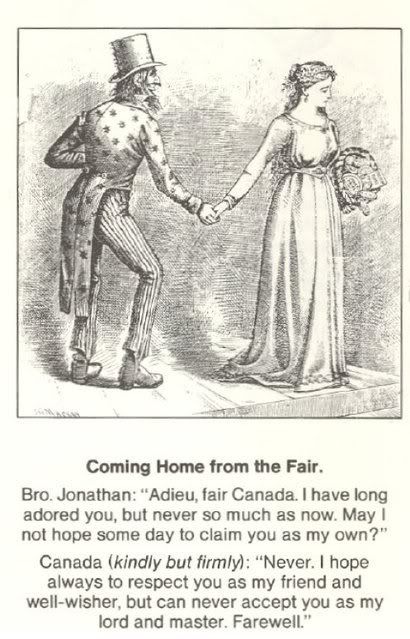 But Yeah, Canada is a good
Mamma's
girl and won't fall for the sway of that lecherous United States.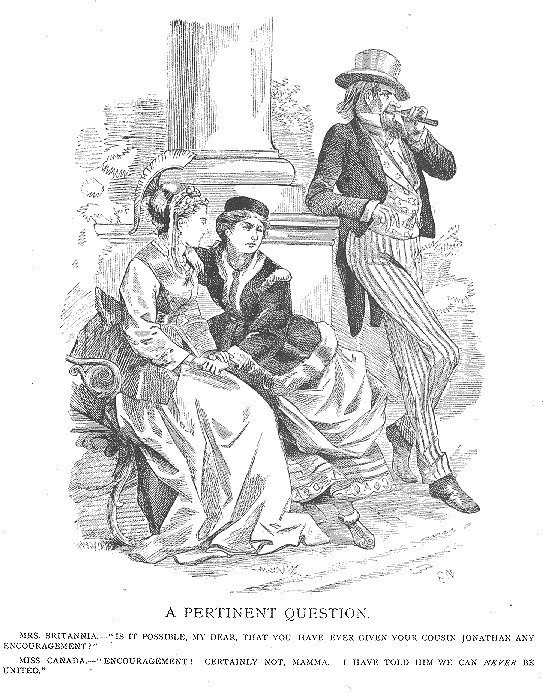 Okay this is more peripherally related to Canada than anything but if you'll let me indulge myself here-- I'd like to say that to be honest, this picture confused me.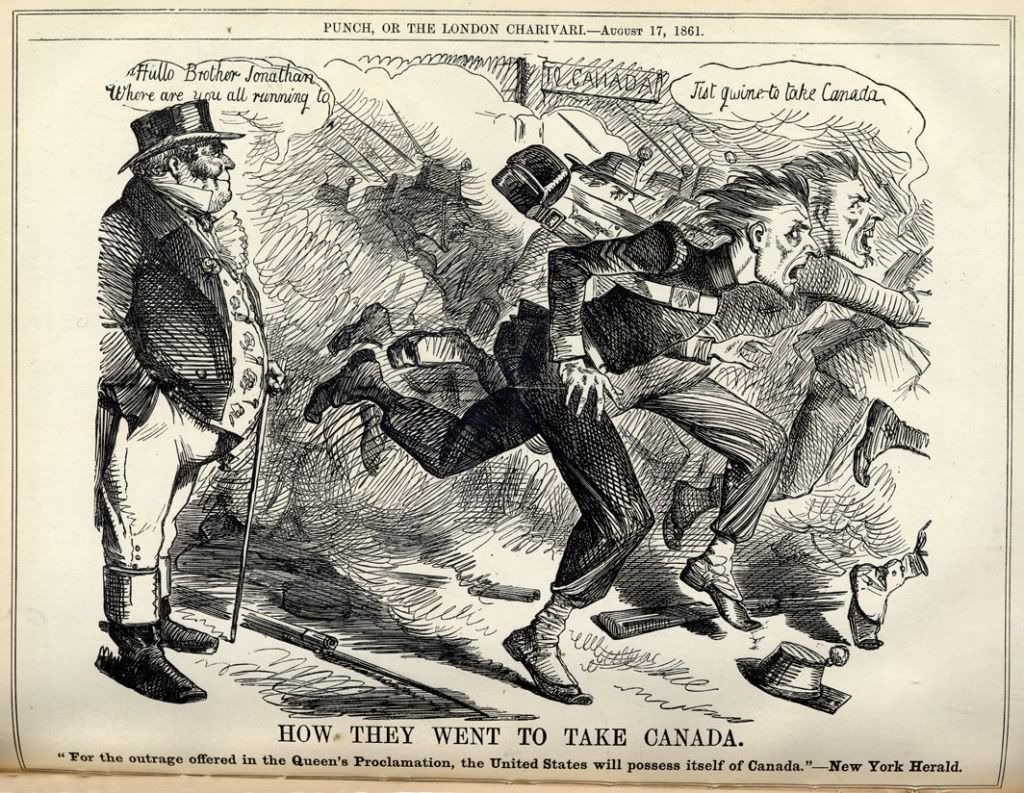 The fact of the US having an attempted invasion of Canada that I didn't know about isn't remotely surprising, however the date is--1861. Yeah, I'm sure the US could have pulled off a successful invasion of Canada, it wasn't like their forces were elsewhere fighting in a bloody Civil War at the time. Oh wait. They were.
I freely admit my ignorance regarding the details of British POV of the American Civil War but even doing a little bit of research I wasn't sure what this picture was even going on about. The one thing that does give it context and gives it a lot more sense is that it was published in the middle of the
Trent Affair
.
Tensions were high between the US and Great Britain and in the end I suppose it was basically the author laughing at the New York Herald for making preposterous statements and pushing for war and the invasion of Canada despite the fact they were busy elsewhere and the war didn't start well for the US. This did lead to a increase in troops in Canada and it's not like it was without reason,
there were a few incidents.
However in the grand scheme of things, aside from the basics of the Trent affair, I had never heard about this because we don't really learn much about the British Perspective of the American Civil War. That is admittedly because they don't have a major role all things considered and there's limited class time but I still find it fascinating to hear about. (And because the idea of this invasion in general sounds absolutely ridiculous in hindsight even if at the time it might have been a scary possibility.)
What's also interesting is that this comic and one I posted before are by
John Tennial
. He's an absolutely fantastic cartoonist/illustrator/characterist and even if you don't know him by name you've likely seen his illustrations for Alice in Wonderland. However, he also produced some incredibly racist and infuriating comics and his depictions of
Africans
,
Native Americans
, oh and let's throw some
Irish in for the giggles
(Trust me that's pretty nice for him but I'm going to stick with this site),
wtf is this even
are kinda...well...not unique to the period and quite frankly I am severely offended by some of his cartoons and some show a clear fact that he doesn't know what's going on. And that itself is interesting to look at in a sense.
But he's worth checking out and I find some of his work brilliantly hilarious.
However, suddenly in 1865 when looking through his work there's a momentary change in tone completely and we drift out of satire for a moment for this picture after the assassination of Lincoln. This is a picture that I have seen before both in the occasional book and also in general research about personifications and it's fascinating to me because it also has made me tear up a little on occasion, and I had no idea it was by the same man that I've gotten so mad at some times.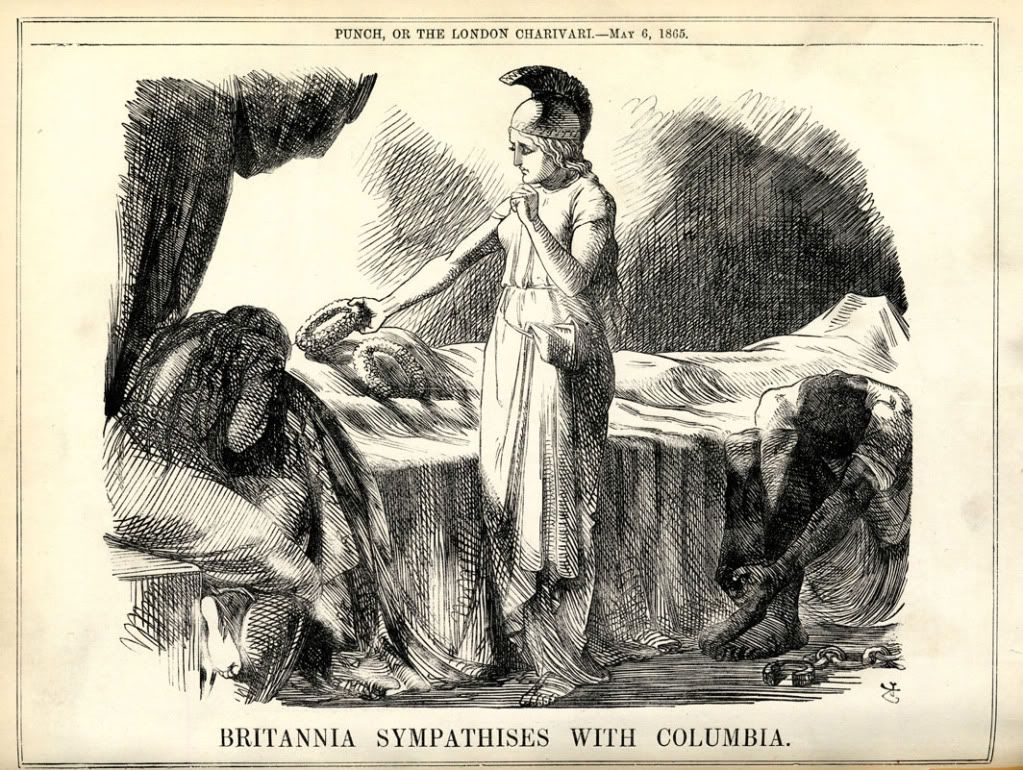 He's a mixed bag, like all people, and heck considering the subject of this post-- like all countries-- but he truly is a master of his craft at least in my opinion.
Okay, sorry, got off on a tangent, but viewpoints are funny things. On the one hand Uncle Sam has a certain, "magnetic" pull that Miss Canada just can't resist. And that's not figurative.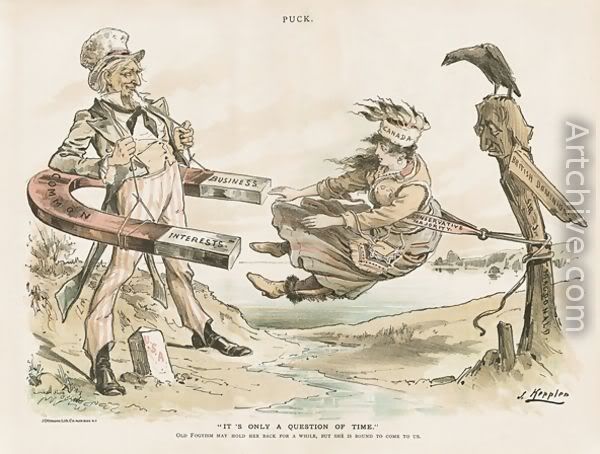 Some view it diffrently with Uncle Sam being the one drawn to her.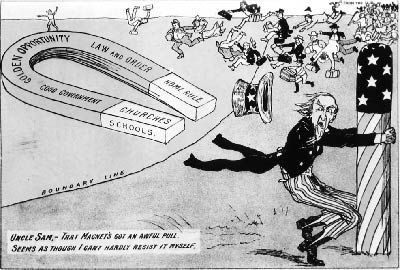 Regardless, in the end Uncle Sam is capatalist scum and will try to benefit off it. Oh America.....*sighs*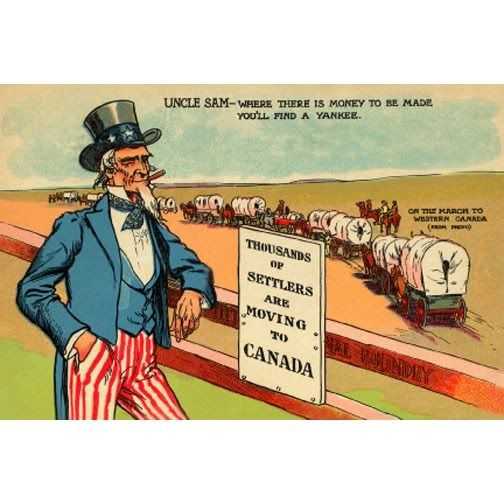 And that's all I got for now folks, I've got some papers to write that don't involve Canada or Uncle Sam.
Or both combined. Horror of Horrors.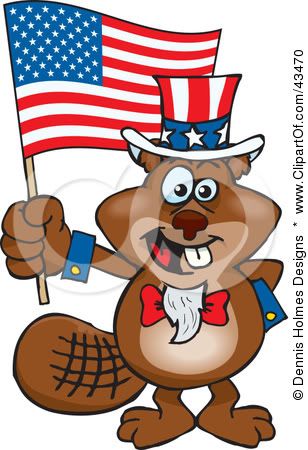 Wait how does a beaver have a beard?